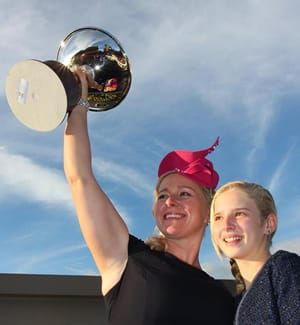 Nat McCall was born to be a horse trainer. Her father Ray McCall has been a successful trainer for many years in the Sunshine Coast region of Queensland and his knowledge was lovingly passed on to his daughter.  There was no escaping the horses which suited Nat just fine, as she loved working with them from a young age.
Her introduction to riding came at the early age of 3 when she was put atop a young pony and was a natural from the start. A childhood filled with pony club and strapping for her father on raceday were the foundations of what was to forge her future career.
Shortly after leaving school Nat got a job at the Sunshine Coast Turf Club as a Racing Assistant which allowed her to get a full understanding of the operations of a race day, whilst still riding work for her father each morning.
Around 1996 her father Ray sadly become ill and Nat was asked to take over the running of the stable which she grabbed with both hands and made a success of until her father was well enough to take it back over.
Once her father was back on board an opportunity to ride full time for Australia's leading trainer John Hawkes become available, so she set off to gain inside knowledge of how one of the largest stables in Australia worked. She also rode freelance work for Peter Moody, Bart Cummings etc.
After 4 years riding, learning and fine tuning her horse husbandry skills, she decided it was time to head back to the Sunshine Coast
After a 1 1/2 year stint training for Stan Johnson and his Craiglee Stud operation, Nat decided it was time to set up her own training business and moved to Caloundra on the Sunshine Coast of Queensland.
Fast forward a few years, Nat and her husband Mick Johnston have 22 boxes on course at Caloundra where they share the day to day running of the stable. Both ride work each morning and offer a truly hands on approach to training.
Nat has had some great success over recent years including winning the biggest prize of all in Queensland, the Group 1 2014 Stradbroke Handicap with stable star River Lad winner of $ 1,711,500 in prizemoney. Other notable winners for her stable have been Stakes winners Lady Echelon and Colour Charge among many other metro performers in Red Doulton and Valario, with many more to come!
She is the winner of the inaugural Wayne Wilson Award from Qld Racing for outstanding achievement and Wayne Wilson medal for Trainer of the Year from the Qld Australian Trainers Association as well as being nominated for Qld Trainer of the Year and Horse of the Year for 2013/2014 season for her outstanding horse – River Lad.
Nat is very passionate about training her horses and loves what she does. She enjoys taking on tried horses that other trainers may be struggling with and giving them a new opportunity to shine under her care. Her training rates are very affordable and the prizemoney in Queensland is very good. She encourages you to give her a call if you have a horse looking for a change of environment or a young horse looking to be educated and put through its pace