Incentives:
Owners: M C Johnston, L F Robins, R Groom, M D Toohey, L J S Smillie, A L McKay, I R Johnson, H J McLaren, W K Otto, P C Gampe, C M Verbeek, S R King, W Connally, S Nand, Platinum Bloodstock (Mgr B Ballard), Bluecrew3 & Bluecrew4
CHOISIR x SHE'S ALL GREEK Filly
(SOLD OUT!)
We asked the sole purchaser of this Filly to make a percentage of her available, and after Nat purchased her own share, we have only 15% available for our stable supporters to snap up, yep, Nat liked her that much!
This cracking filly will not stay available for long at all.  Breeding speaks for itself but have a listen to Nat's comments:
10% Shares – $4,388* (+gst)
5% Shares – $2,194* (+gst)
*Pricing covers QTIS nomination, Magic Millions Race Series, scoping, float, breaking in, 1yr insurance, spelling and training costs until 1st May 2020.
(Approx ongoing costs for 5% share – $170 when in work, $60 spelling per month)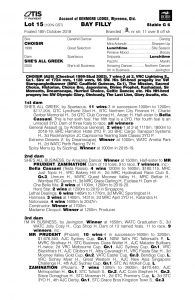 BAY FILLY (AUS)

Foaled 18th October 2018

---

| | | | |
| --- | --- | --- | --- |
| Sire | Danehill Dancer | Danehill | Danzig |
| CHOISIR (AUS) | | Mira Adonde | Sharpen Up |
| 1999 | Great Selection | Lunchtime | Silly Season |
| | | Pensive Mood | Biscay |
| Dam | Spartacus | Snippets | Lunchtime |
| SHE'S ALL GREEK (AUS) | | Pazzihi | Manihi |
| 2000 | She's all Business | Amazing Dancer | Northern Dancer |
| | | I'm in Business | Jevington |

---

CHOISIR (AUS) (Chestnut 1999-Stud 2003). 7 wins-3 at 2, VRC Lightning S., Gr.1. Sire of 1736 rnrs, 1133 wnrs, 96 SW, inc. Olympic Glory (Longchamp Prix Jean-Luc Lagardere, Gr.1), Starspangledbanner, The Mission, Obviously, Sacred Choice, Historian, Choice Bro, The Last Lion, Japonisme, Divine Prophet, Kushadasi, Sir Moments, Dreamscape, Hurried Choice, Glory Awaits, Secret Weapon, Celtic Dancer, Stimulation, Music Bay, Rajasinghe, Chandlery, etc.

1st dam

SHE'S ALL GREEK, by Spartacus. 11 wins to 1200m, A$117,205, QTC Lyndhurst Stud H., BTC Northern City Finance H., Charlie Gerber Memorial H., 3d QTC Club Conrad H., Anzac H. Half-sister to Bella Cassani. This is her sixth foal. Her fifth foal is a 2YO. Dam of three foals to race, all winners-

General Assault (g. by Ambitious General). 2 wins-1 at 2-at 1100m, 1800m to 2018-19, BRC Hamilton Hotel 2YO P., 2d BRC Cargo Transport Systems H., 3d Rockhampton JC Capricornia Yearling Sale Classic 2YO P.

Extreme Dreams (f. by Dreamscape). Winner at 1000m, WATC Amelia Park H., 2d WATC Perth Racing TV H.

Spicy Menu (g. by Sizzling). Winner at 1000m in 2018-19 in Aust.

2nd dam

SHE'S ALL BUSINESS, by Amazing Dancer. Winner at 1500m in Aust. Half-sister to MR PRUDENT, ZAMINATION. Dam of 10 foals, 9 to race, 7 winners, inc:-

Bella Cassani (Testa Rossa). 4 wins from 1200m to 1600m, A$180,115, MRC Just Topic H., VRC Bakery Hill H., 2d MRC Hyderabad Race Club S., Gr.3, Umrum H., MVRC Quest Moonee Valley H., MRC Betfair H., Werribee RC Qenos H., 3d MRC Grace Darling H., Euclase H. Dam of-

Hero Star. 3 wins at 1200m to 2020, Singapore TC Class 5 H., Kranji S., 2d Singapore TC Kranji S.-twice, Class 5 H.-3 times, 3d Singapore TC Kranji D S., Class 4 H.

Che Bella Vita. 2 wins at 1100m, 1200m to 2019-20 in Aust.

She's All Greek. 11 wins. See above.

Lethal Dealings. 6 wins from 1450m to 1750m, 3d MVRC Sportingbet H.

Holmesa. 3 wins at 1400m, 1450m, 2d MRC April 2YO H., Katandra H.

Notorussia. 4 wins from 1600m to 2050m in Aust.

Constructor. Winner at 1700m in Aust.

Madame Clicquot. Winner at 1200m in Aust. Producer.

3rd dam

I'M IN BUSINESS, by Jevington. Winner at 1650m, WATC Graduation S., 3d WATC Jolly Cosy H., Cop Shop H. Dam of 13 named foals, 11 to race, 9 winners, inc:-

MR PRUDENT (Phizam). 10 wins from 1600m to 3200m, A$1,676,340, AJC Sydney Cup, Gr.1, NSW Tatt's RC Tattersall's P., L, MVRC Strathayr H., STC Business Class Welter H., AJC Matador Bullbars H.-twice, 2d VRC Melbourne Cup, Gr.1, AJC Sydney Cup, Gr.1, VRC Blackfriars H., AJC Clibborn H., Alby Cavanagh H., VRC Fiesta Star H., 3d Moonee Valley Gold Cup, Gr.2, VATC Easter Cup, Gr.3, Bendigo Cup, L, VRC Sidney Myer H., Great Western H., AJC New Asia Singapore Challenge H., 4th AJC Sydney Cup, Gr.1, STC WJ McKell Cup, L.

ZAMINATION (Phizam). 7 wins from 1300m to 2600m, A$470,440, AJC Metropolitan H., Gr.1, STC Tulloch S., Gr.2, AJC Colin Stephen H., Gr.3, Steve Donaghue H., STC Mosman H., 2d STC Premier's Cup, L, 3d STC 3YO H., 4th AJC Derby, Gr.1, STC Grace Bros Kingston Town S., Gr.3.

Private Business. 5 wins at 1400m, 1600m, ARC South Auckland Ford H., Avondale JC Ford Fairmont Improvers H., 2d Counties RC Patamahoe Rugby Club Syndicate H.

Profitable Return. 4 wins from 1200m to 1650m, WATC Diet Sprite H., Barbarossa H., 2d WATC Rhinekellar H., Duchess H., Club Port H., Kalgoorlie Racing Round H., 3d WATC Ming Dynasty H., Getaway Deal H., Qantas Frequent Flyers H., Rosebud H., House & Contents Insurance H., HMAS Nestor H., Muros H., Kevs Folly H.

Oscar Prince. Winner at 1400m, HKJC Sha Kok H., 2d HKJC Citibank Citigold H., 3d HKJC Tan Shan River H., Tai Tam Country Trail H., Tsing Yi H., Tai Shing Stream H., Tulip H.

Phizam's Folly - Natasha Ann (Mal.). Winner at 2, AJC McWilliams Sherry H., 2d STC Con Payne H., 3d AJC Noel Murless 2YO H.

I Mean Business. Unraced. Dam of-

Barry the Baptist. 7 wins from 1300m to 2000m, A$332,400, to 2018-19, Stawell Cup, 3d Bendigo JC Underground Cable Systems H.

4th dam

RAIN CHECK, by Rain Lover. Unplaced. Half-sister to Easter Egg (dam of GLEAMING WATERS), Acclaim (dam of MR INDEPENDENT), Double Dissolution (dam of VAIN MARCEAU, DUAL MARCEAU). Dam of 11 foals, 9 to race, 6 winners, inc:-

I'm in Business. Winner. See above.