Incentives:
Owners: M Johnston, J Evans, D Sullivan, D De Pasquale, B Murton, C McIlveen, V Price, J Gorgogianis, J Lanyon, I Duncan, B Winters, J Carey, F Robins, M Travers, Platinum Bloodstock (Mgr: B Ballard), Dutch Courage R.S. (Mgr: C Koch), Did It For Our Wives (Mgr: M Blundell) & Bluecrew6 (Mgr: B Ballard)
** SOLD OUT! **
An out and out sprinting champion is I AM INVINCIBLE and from a stakes winning mare SOVIET SECRET this purchase is an exciting one…..but here are Nat's comments and all the combined elements that justified the final purchase:
26th October 2021 – Exciting 2nd up performance from our 'potential' superstar Colt, check it out below:
Heat 15 – 26th Oct – Sunshine Coast Turf Club
12th October 2021 – The Boy looked great today first time hitting the track!
Sunshine Coast Turf Club (Jumpouts)
Vision created and shared from the breakers….
https://vimeo.com/541784088/87102cd523
More information can be found through the Inglis Classic Website and through their parade video both attached below. Please note, Glenlogan Park have identified him as a wind sucker.
Lot 332 – Glenlogan Park – I Am Invincible Colt 
I AM INVINCIBLE x SOVIET SECRET Colt
Our boy continues to progress well, Nat's comment attached:
Nat's weekly update
10% Ownership Packages – $19,920* (+gst)
5% Ownership Packages – $9,960* (+gst)
2.5% Ownership Packages (or smaller percentages) will be owned under a company syndicate named 'BLUECREW6' that has been established – $4,980* (+gst)
* Pricing covers insurance, floating, breaking in, BOBS (NSW Racing Incentive Scheme), Inglis Race Series, scoping, Longines Golden Slipper (Nomination & 1st Acceptance) and all fees until 1st December 2021. Prices will increase if shares are still available from this date.  Share price does not include any medical costs required.
Please budget on approximate ongoing costs for 5% share: $175/month when in work, $60/month when spelling.
Purchases and enquiries all through brett@natmccallracing.com.au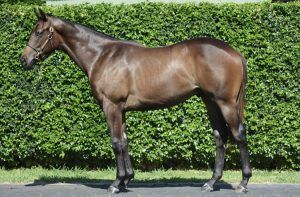 BROWN COLT (AUS)

Foaled 8th September 2019

---

| | | | |
| --- | --- | --- | --- |
| Sire | Invincible Spirit | Green Desert | Danzig |
| I AM INVINCIBLE (AUS) | | Rafha | Kris |
| 2004 | Cannarelle | Canny Lad | Bletchingly |
| | | Countess Pedrille | Zoffany |
| Dam | Eavesdropper | Kingmambo | Mr. Prospector |
| SOVIET SECRET (AUS) | | Weekend Surprise | Secretariat |
| 2013 | Russian Babe | Singspiel | In the Wings |
| | | Rossiya | Machiavellian |

---

I AM INVINCIBLE (AUS) (Bay 2004-Stud 2010). 5 wins-1 at 2, SAJC DC McKay S., Gr.3. Leading Sire of 2YOs in Aust. in 2018-19. Sire of 740 rnrs, 571 wnrs, 62 SW, inc. Loving Gaby (MVRC Manikato S., Gr.1), Brazen Beau, Viddora, I Am a Star, Voodoo Lad, Invincibella, Media Sensation, Oohood, Hellbent, Dame Giselle, Libertini, Fiesta, Illustrious Lad, Victorem, Invincible Gem, Prophet's Thumb, Pure Elation, Miss Leonidas, Look to the Stars, etc.

1st dam

Soviet Secret, by Eavesdropper. Winner at 1400m, A$145,500, 2d ATC Inglis 2YO Classic, RL, MRC Merson Cooper S., L, 3d VRC Thoroughbred Breeders S., Gr.3, 4th ATC Percy Sykes S., Gr.3. Half-sister to Export - Unbreakable (Mac.). This is her second foal. Her first foal is a 2YO.

2nd dam

RUSSIAN BABE, by Singspiel. Raced twice. Half-sister to GIRL IN FLIGHT. Dam of 5 foals, all winners-

Soviet Secret (Eavesdropper). Winner. See above.

Export - Unbreakable (Mac.) (Al Samer). 4 wins at 1100m, 1200m in Aust., HK and Macau, HKJC Entrapment H., Fellowship H., 2d Macau Sprint Trophy, L, ATC TAB Iphone App H.

Russian Ruby. Winner at 1200m, MVRC Fisher & Paykel P.

Not for Export. 4 wins from 1200m to 1700m, A$168,335, 3d ATC Country Championship Final, Dubbo TC WRA Country Championships Qualifier, ATC TAB Highway H.-twice.

Shagra. Winner at 1350m in Aust.

3rd dam

ROSSIYA, by Machiavellian. Winner at 1m, Sandown Cleanevent S. Sister to QUEEN CATHERINE (dam of LADY CATHERINE), half-sister to Gretel, Princess Sofia (dam of PRINCE GIBRALTAR, PRINCESS GIBRALTAR), Vyatka (dam of BOBS PRIDE). Dam of 6 foals, all raced, 4 winners, inc:-

GIRL IN FLIGHT (Commands). 4 wins from 1300m to 1800m, A$285,630, SAJC Schweppervescence S., Gr.3, MRC Lee Thomas Gift H., 2d VRC Matriarch S., Gr.2, MVRC Sunline S., Gr.2, 3d VRC Vanity S., Gr.3, MVRC Alexandra S., L, 4th VRC AV Kewney S., Gr.2, Frances Tressady S., Gr.3. Producer.

Medvedev. 3 wins from 1300m to 1900m, A$116,640, ATC Tab.com.au H., 2d ATC Significant S., VRC KA Morrison H., SAJC AAMI Spring Carnival H., 3d MVRC City Jeep H.

4th dam

Russian Royal, by Nureyev. 2 wins-1 at 2-at 6f, 7f, Ascot Clarence House 2YO S., 2d Newbury Fred Darling S., Gr.3, Royal Ascot Jersey S., Gr.3, Newcastle Beeswing S., Gr.3, 4th Goodwood Supreme S., Gr.3. Three-quarter-sister to Incinderator, half-sister to Worth's Girl (dam of WORTHILY). Dam of 9 foals, 6 to race, all winners, inc:-

QUEEN CATHERINE (Machiavellian). 2 wins-1 at 2-at 1600m, Saint-Cloud Prix de Bagatelle, L, Longchamp Prix de la Butte aux Cailles, 2d Chantilly Prix d'Angerville, L, Maisons-Laffitte Prix Saraca, L. Dam of-

LADY CATHERINE (Bering). 3 wins at 2, €229,332, 14,720Dhs, Milan Premio Dormello, Gr.3, Craon Criterium de l'Ouest, L, 2d Oaks d'Italia, Gr.1. Producer.

Queen of Stars. Unraced. Dam of-

ILLUMINATE (Zoffany). 3 wins at 2, £145,404, Newmarket Duchess of Cambridge S., Gr.2, Royal Ascot Albany S., Gr.3, 2d Newmarket Cheveley Park S., Gr.1.

Gretel (Hansel). Winner at 2, Sandown Paddock 2YO S., 3d Doncaster May Hill S., Gr.3, 4th Newbury Fillies Trial S., L. Producer.

Princess Sofia. 5 wins at 1600m, 1850m, €88,390, Longchamp Prix du 150th Anniversaire de Longchamp, 3d Grand Prix de Chateaubriant. Dam of-

PRINCE GIBRALTAR (Rock of Gibraltar). 4 wins-2 at 2-from 1600m to 2400m, £10,760, €791,760 in France and Germany, Baden-Baden Grosser Preis von Baden, Gr.1, Criterium de Saint-Cloud, Gr.1, Saint-Cloud Prix Greffulhe, Gr.2, Maisons-Laffitte Prix Commandeur, 2d Longchamp Grand Prix de Paris, Gr.1, Munich Grosser Preis von Bayern, Gr.1, Grand Prix de Chantilly, Gr.2, 3d Chantilly Prix du Jockey Club, Gr.1, Deauville Prix Guillaume d'Ornano, Gr.2, York S., Gr.2, Chantilly Prix de Villebon. Sire.

PRINCESS GIBRALTAR (Rock of Gibraltar). 4 wins-1 at 2-from 1500m to 1700m in France, U.S.A. and Germany, Dortmund Grosser Preis der Sparkasse Dortmund, L, Saint-Cloud Prix Amonita, 3d Maisons-Laffitte Prix de Bagatelle, L, Suffolk Downs Steve Pini Memorial S., L, 4th Belmont Perfect Sting S., L, Chantilly Prix Maurice Zilber, L, Nantes Grand Prix Anjou Bretagne, L.

Vyatka. Unraced. Dam of-

BOBS PRIDE (Marju). 9 wins from 1m to 17f, €228,259, Leopardstown Ballysax S., Gr.3, Curragh One in Four S., 2d Fairyhouse Winning Fair Juvenile Hurdle, 3d Galway Mile H., Leopardstown Bord Na Mona With Nature Novice Chase, 4th Leopardstown Derrinstown Stud Derby Trial S., Gr.2.