'SOLD OUT'
SOOBOOG x PHILOCRACY Filly
Another bargain purchase from Nat who is very happy with her new addition both on price and blood lines.
Watch this beautiful girl move: https://vimeo.com/408355942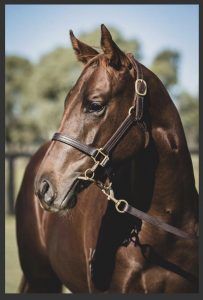 10% Shares – $1,980* (+gst)
5% Shares – $990* (+gst)
*Pricing covers float, breaking in, incentive scheme, spelling and all training/living costs apart from urgent medical until 30th June 2020.
(Approx ongoing costs for 5% share – $170 when in work, $60 spelling per month)
CHESTNUT FILLY (AUS)

Foaled 27th August 2018

---

| | | | |
| --- | --- | --- | --- |
| Sire | Snitzel | Redoute's Choice | Danehill |
| SOOBOOG (AUS) | | Snippets' Lass | Snippets |
| 2012 | Monte Rosa | Fraar | Topsider |
| | | La Nebbia | Zephyr Bay |
| Dam | Bureaucracy | Lord Ballina | Bletchingly |
| PHILOCRACY (AUS) | | Tulla Doll | Oncidium |
| 2008 | Philomoss | Twig Moss | Luthier |
| | | Philomel | Zamazaan |

---

SOOBOOG (AUS) (Chestnut 2012-Stud 2017). 3 wins at 1100m, 1200m, A$272,575, VRC Aurie's Star H., Gr.3, ATC Tab.com.au H., Cellarbrations H., 2d SAJC Euclase S., Gr.2, ATC Breeders' P., L, VRC Goodwood Racecourse Trophy H., L, 4th VRC AR Creswick Series Final S., L, City Tatt's RC Brian Crowley S., L. Brother to SW Snitzerland (VRC Lightning S., Gr.1). Half-brother to SP Red Dress Marley (2d MRC Debutant S., L). His oldest progeny are yearlings.

1st dam

PHILOCRACY, by Bureaucracy. Winner at 1300m in Aust. Sister to NOIRCIR. This is her fourth foal. Dam of two foals to race, inc:-

Diabolical (f. by I Am Invincible). Placed in 2019-20 in Aust.

2nd dam

PHILOMOSS, by Twig Moss. Unplaced. Half-sister to Bellerophon. Dam of 8 foals, 7 to race, all winners, inc:-

NOIRCIR (Bureaucracy). 9 wins from 1000m to 1600m, A$521,035, VRC Hardy Brothers Classic S., Gr.2, SAJC Sedgwick Classic S., Gr.2, VRC Matron S., L, Le Hamel H., Cassa Commerciale H., VATC Carlton Draught H., St Clair H., 2d VATC George Vowles H., 3d STC Coolmore Classic, Gr.1, VRC Blamey S., Gr.2, MVRC Norman Carlyon S., Gr.2, Mornington RC Hareeba S., L, 4th MVRC Tesio S., Gr.3. Dam of-

Blacken (Rubiton). 4 wins to 1500m, A$135,838, MRC Aare H., Broadbridge H., 2d MRC Twilight Glow S., L, MVRC Ryan & McNulty Sawmillers P., Connex Plus H. Producer.

Dark Note. 7 wins from 1300m to 2050m, A$217,295, MVRC Gillies Famous Pies Country Cup, MRC Betfair H., 2d VRC Spotless H., MRC Sun Valley H., Maple H., Betfair H., 3d VRC Cancer Council Girls' Night In H., Spotless H., MVRC Leslie Short Hiskens H., MRC Ahern's at Highways H.

Ominous Quality. 4 wins from 1200m to 1600m, A$163,777, MRC Alannah & Madeline Foundation H., Sportingbet App Mobile H., MRC (Mornington) International Truck Centre H., 2d VRC Indian Summer H., 4th ATC Aspiration H., L. Producer.

Quality Appeal. Placed in Aust. Dam of-

Natural Black. 4 wins from 1000m to 1650m, A$92,100, to 2018-19, BRC Billy J Boutique H., SCTC Sky Thoroughbred Central H., 2d SCTC Pool Pro P., 3d BRC Smirnoff Pride H., Clayfield Jewellery P., Ipswich Cup Festival P.

Black Strata. Winner at 1200m in 2018-19, BRC Memberships P., 2d Ipswich TC Whittington at Grandview H., 3d Ipswich TC Channel Seven H.

First Take. 2 wins at 1600m, 2350m in Aust.

Mastiche. 2 wins at 1600m in Aust.

Philosophical. 2 wins at 1500m in Aust. Producer.

Wiley Son. 2 wins at 1500m, 1900m in Aust.

Beauriphul Gal. Unraced. Dam of-

Creative Genius (Master of Design). 5 wins at 1400m, 1600m, NZ$95,400, to 2019-20, ARC John Deere Agrowquip H., WRC Tab Bonus Back Cup, 2d ARC Twilight Cup, Counties RC Dunstan Horse Feeds H., 3d ARC Trevor Eagle Memorial S., L, Barfoot & Thompson H., WRC Gee & Hickton Funerals H., Whangarei RC Marine and Engineering Supplies H.

3rd dam

PHILOMEL, by Zamazaan. 4 wins from 1400m to 3200m, A$83,005, WATC Perth Cup, Gr.1, MVRC Hallam H., VATC Lockwood H., 2d VRC Shaggy Ridge H., WATC York H., 3d SAJC Adelaide Cup, Gr.1, WATC CB Cox S., Gr.2. Half-sister to TURF RULER. Dam of 7 named foals, 6 to race, 4 winners, inc:-

Bellerophon (Taj Rossi). 6 wins from 1600m to 2200m, ARC Ellerslie Anniversary Cup, Waikato RC Mannings Quality H., Counties RC RH Andrewes H., Waikato RC Te Pahu H., 2d ARC Air New Zealand S., Gr.1, Waikato RC International S., Gr.2, Avondale JC Governor General's Cup, O'Loghlan H., 3d Manawatu RC Awapuni Gold Cup, Gr.2. Dam of-

Beldivo (Gold and Ivory). 5 wins from 1400m to 2200m, A$88,747, WATC Forrest H., Bianco Lady Quality H., Frank Treen H., 2d WATC Fairetha S., L, Melvista S., L, 3d VATC JJ Liston S., Gr.2, WATC JC Roberts S., Gr.3.

Anemone. Unraced. Dam of-

BELLA DIVA (Centro). 3 wins at 1400m, 1500m, WATC Sheila Gwynne S., L, House of Representatives H., Seaview Tawny Port H., 2d WATC Golden Centre H., Sisalation 2YO H., Ascot Waters Sprint H., 4th WATC Champion Fillies S., Gr.3. Producer.

Amica Bella (Dr Johnson). Winner at 1600m, 2d WATC Cambridge Star H., 3d Western Australian Oaks, Gr.2, WATC Northline Travel H., Grey Affair H. Dam of-

BELORA (Oratorio). 9 wins from 1000m to 1750m, A$361,455, Kalgoorlie Boulder RC Boulder Cup, L, WATC Westspeed 3YO H., Perth Ice Works H., Selangor Turf Club Trophy H., Frank Treen Medallion H., Greg Marrell H., 2d WATC Belmont Sprint H., Gr.3.