Incentives:
SOLD OUT!!
Not only MAGIC MILLIONS DAY IN 2022 with this purchase……but QTIS…..and a Filly!!
By a 2x Group winner as a 2yo and a Group 1 winner (Golden Rose) as a 3yo, and was also the sire of the 2021 Magic Millions Open Handicap 1800m winner, 'Paradee'.  Dam is herself a 7x winner, this is her 3 foal, with previous both winners, most notably being 'Baroda'.
Target is of course is Magic Millions Day 2022, QTIS and Filly QTIS bonuses along the way and into her career.  Watch the video closely, view the photos and research the breeding via the 'Pedigree Tab'.
Nat's personal comments:
10% Shares – $9,725* (+gst),
5% Shares – $4,863* (+gst),
2.5% Shares (if able to release) – $2,431* (+gst)
* Pricing covers insurance, floating, breaking in, QTIS incentive scheme, Magic Millions Race Series scoping, and spelling until 31st March 2021. Prices will increase if shares are still available from this date.  Share price does not include any urgent medical costs required.
Please budget on approximate ongoing costs for 5% share: $175 when in work, $60 spelling per month.
For purchases and any further specific enquiries, please contact brett@natmccallracing.com.au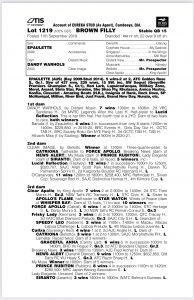 BROWN FILLY (AUS)

Foaled 11th September 2019

---

| | | | |
| --- | --- | --- | --- |
| Sire | Commands | Danehill | Danzig |
| EPAULETTE (AUS) | | Cotehele House | My Swanee |
| 2009 | Accessories | Singspiel | In the Wings |
| | | Anna Matrushka | Mill Reef |
| Dam | Distant Music | Distant View | Mr. Prospector |
| DANDY WARHOLS (AUS) | | Musicanti | Nijinsky |
| 2003 | Clear Image | Bellotto | Mr. Prospector |
| | | Clear Apollo | King Apollo |

---

EPAULETTE (AUS) (Bay 2009-Stud 2014). 5 wins-2 at 2, ATC Golden Rose S., Gr.1. Sire of 454 rnrs, 252 wnrs, 15 SW, inc. Soqrat (Greyville Premiers Champion S., Gr.1), Red Lark, Lapulced'acqua, Military Zone, Meryl, Aryaaf, Stela Star, Paradee, She Shao Fly, Khulaasa, Amica Nostra, Kordia, Cossetot - Amazing Beats (H.K.), Insignia of Rank, Rock Dove, SP Oscar Zulu, McMunigal, Million, River Bird, Just Frank, Brand New Day, Nunzia, etc.

1st dam

DANDY WARHOLS, by Distant Music. 7 wins from 1000m to 1600m, A$80,620, 2d VRC Sanderae H., 3d MVRC Legends After the Last H. Half-sister to Lucid Reflection. This is her fifth foal. Her fourth foal is a 2YO. Dam of two foals to race, both winners-

Baroda (f. by Epaulette). 5 wins to 1400m, A$253,150, to 2020-21, BRC Events H., Girls Day Out H., GCTC TAB H., BRC Society Roku Gin NYE Party H., GCTC TAB H., 3d GCTC TAB H., TAB H.

Hibachi Miss (f. by Sizzling). Winner at 900m in 2020-21 in Aust.

2nd dam

CLEAR IMAGE, by Bellotto. Winner at 1200m in Aust. Three-quarter-sister to CATRIONA, half-sister to FORCE APOLLO, Frisky Lady, Caltra, Breaking News (dam of NEWS ALERT), My Muse (dam of PRINCE RUBITON), Lady Elegante (dam of SIRANTO). Dam of 6 foals, all raced, 5 winners, inc:-

Lucid Reflection (Fasliyev). 12 wins to 1250m, A$320,707, SAJC Allan Scott Park Morphettville Flying H., Darwin TC Palmerston Sprint H., Alice Springs TC Pioneer Sprint H., 2d Kalgoorlie Boulder RC Hannan's H., L, 3d Alice Springs TC Pioneer Sprint H.

O'Canarvass. 11 wins from 1200m to 1800m, A$258,400, MRC Raffindale H., Silvan Cup, Sovereign Red H., SAJC Distinctive Homes H., Cranbourne TC Victoria Trade H., 2d VRC Williamstown H., Echuca Cup, VRC David Benham H., Skipton H., Think Big H., 3d VRC Williamstown Welter H., MRC Jim Conway H., VRC Flemington 1840-2004 H., 4th Kilmore Cup, L.

3rd dam

Clear Apollo, by King Apollo. 7 wins-2 at 2-to 1400m, AJC W Forrester H., Gallipoli Welter H., STC Jindabyne H., RJ Bartley H., AJC Long Reef S., STC Sans Souci H., 2d STC Theo Marks H., Gr.2, NSW Tatt's RC Tramway H., L, STC Civic H., L, 4th STC Winter H., L. Sister to APOLLO'S FLAME, half-sister to STAR WATCH, Winds of Peace (dam of WHISPER BAY). Dam of 13 named foals, 11 to race, 10 winners, inc:-

FORCE APOLLO (Catrail). 6 wins-1 at 2-to 1400m, A$331,580, STC Heritage S., L, Darby Munro S., L, VRC Seascay Welter H., STC Cody Premium Outdoor H., Good Guys Bankstown H., 2d NSW Tatt's RC Roman Consul S., Gr.3, Hawkesbury RC Safilo Cup, L.

Frisky Lady (Kenmare). 3 wins-1 at 2-at 1000m, 1200m, QTC Triscay H., Victoria Bitter H., SAJC Sunny Sostene 2YO H., 2d VATC Nan Yang Supermarket P., 3d VATC Blue Diamond Prelude, Gr.3, SAJC City S.H., L. Dam of-

Leonina. Unraced. Dam of-

SPEEDY LEO (Nadeem). 2 wins at 1100m, 1400m in Macau, Macau Lisboa Challenge, L, Lisboa Prelude, L, 4th Macau Lisboa Juvenile, L.

Caltra (Sovereign Red). 4 wins-1 at 2-at 1000m, 1200m, A$95,060, AJC Magnificent H., Monte Carlo H., STC Pratten Park H., 2d AJC Analie H., L, STC Eau de Cologne H., 4th AJC James HB Carr S., L. Dam of-

CATRIONA (Bellotto). 3 wins-1 at 2-to 1300m, SAJC Morphettville P.H., L, Chef Cheong Liew H., Legtrap Hotel H., 4th SAJC KPMG S., L, Oaklands P., L. Dam of-

Caniona. 3 wins-1 at 2-from 1200m to 1800m, 3d QTC Star of the Knight H. Dam of-

SHE CAN SKATE (Bradbury's Luck). 4 wins at 1100m, 1200m, A$237,160, VRC AR Creswick S., L, MRC PFD Food Services H., MVRC Simpson Construction H., 3d VRC GH Mumm S., Gr.3. Dam of-

JYOTI (Akeed Mofeed). 2 wins at 2, A$131,875, in 2019-20, TTC Gold Sovereign S., L, SAJC Furphy 2YO P., 2d Murray Bridge RC Murray Computers 2YO P.

Lamellar. Raced twice. Dam of-

GRACEFUL ANNA (Canny Lad). 6 wins to 1400m, A$1,031,050, BRC Vo Rogue P., Gr.3, GCTC Magic Millions 3YO Trophy, RL, 2d ATC Breeders Classic, Gr.2, Liverpool City Cup, Gr.3, Millie Fox H., Gr.3, 3d BRC BTC Classic, Gr.3. Producer.

Breaking News. 3 wins to 1300m, AJC Fred Archer H., STC Young Members H., 2d STC Members Researved Seating H. Dam of-

NEWS ALERT (Danehill Dancer). 9 wins to 1250m, A$652,850, Qld Tatt's RC WJ Healy S., Gr.3, ATC Razor Sharp H., L, STC Canterbury Classic, L, City Tatt's RC Lightning H., L, BTC Chief de Beers H., L, 2d ATC Sebring S., Gr.3, AJC Razor Sharp H., L.

My Muse. Winner at 1000m in Aust. Dam of-

PRINCE RUBITON (Rubiton). 8 wins to 1400m, A$280,500, MRC Japan Racing Association S., L, 2d MRC WJ Adams S., L, 3d MRC Moonga S., Gr.3, VRC Century S., L, MRC Sir John Monash S., L.

Lady Elegante. Unraced. Dam of-

SIRANTO (Laranto). 3 wins from 1400m to 1600m, WATC Belmont Guineas, L, Emporium H., 2d WATC Dayana S., L, Sunspeed-Harridan H., 3d WATC Pearl & Dean P.